Picture this: you've just been offered the job promotion of your dreams. This new job is everything you've ever wanted and more – better pay, an office to yourself, your very own team to manage, and a savvy job title that gives you an extra skip in your step – you can hardly wait to begin! Only, there's a catch. Suddenly, the dream promotion is seeming like a nightmare notion. Before you can enjoy any of these new job perks, you're going to have to figure out how you're going to embark on your interstate relocation, and in the short time frame in which you need to do so.
Regardless of how promising your future endeavors might be, the concept of moving interstate can be a daunting one. Sure, the pot of gold at the end of the rainbow might come in the form of an exciting new career, or the chance to finally be with your long-distance better half, or you're just a restless soul who enjoys a change of scenery – whatever your motive for relocating, it's a big life change to make. The following 10 tips should kick-start your interstate relocation process and guide your pre-move planning in the right direction.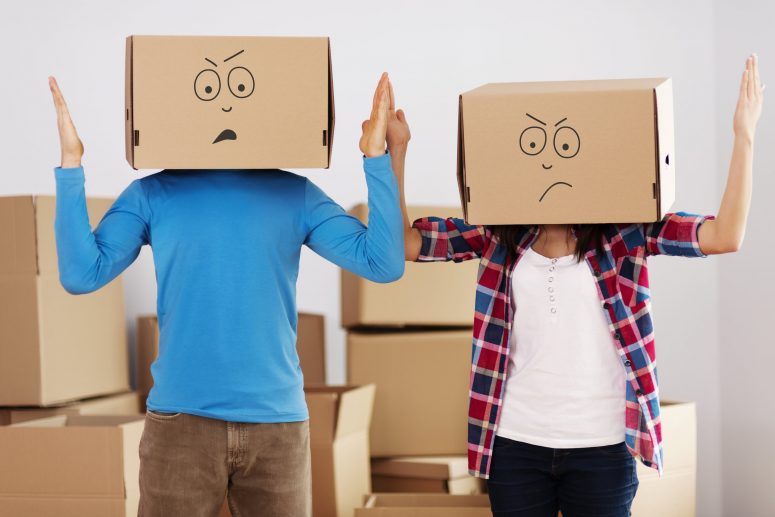 10 Tip to Kick-start Your Relocation
1. Don't leave friends and family in the dark
As soon as you have it set in stone that you will be moving interstate, it's important to communicate with those closest to you about your plans. Family and close friends will be so much more accepting of your decision if they're given plenty of notice, and you've taken the time to talk to them about it. Of course, certain circumstances may not allow you to provide your nearest and dearest with months of notice, but it is a good idea to give as much warning as you can that you'll be moving away.
2. Keep, Throw, Sell or Donate!
As you begin sorting through your possessions and working out what you want to take with you, a good idea is to make four different piles: keep, chuck, sell or donate. You may think you need to take everything – but you don't. Whether we'll admit it or not, most us are in dire need of a good de-clutter, and moving cities can be a brilliant excuse to look at all your stuff and decide what you really want to take, and what you can get rid of. The less unnecessary stuff you take with you, the easier your unpacking is going to be at the other end. Plus, it's just therapeutic as heck to downsize your belongings.
3. Do your research
You may have fantasised about moving your whole life, wistfully dreaming of how much greener the grass could be somewhere else. Or, you've never had the intention of going anywhere, but somehow, you've found yourself facing the reality of moving to a new city. Whatever the reason behind your relocation, it's a good idea to do a bit of research prior to the move – some light reading and a bit of Googling perhaps. Planning to start living in a new state means taking yourself away from familiarity, and into a completely different environment. New landscapes, new cities, new people, a new way of life, a new climate… the list goes on. Familiarise yourself as much as you can with your new city before you make the move. Read about the people, the shops, the festivities, what makes that city special and what to expect weather-wise. Google the best places to eat, some scenic spots to visit in the weekend and how much it costs to park in the city. Read, soak it in, and digest some information about your future hometown. Knowledge is power!
4. Use social media to connect with people
One of the perks of social media platforms in today's world, is the ability to connect with people near and far, from all over the planet. It's as simple as posting a photo on Instagram with a caption such as "Can't wait to move my life to California", or "Help me find the best coffee in New York" and you will find your photo reaching anybody also moving to Brisbane, anyone who lives there currently, or anyone who has an interest in Brisbane's coffee scene. Safety comes first and you want to be wary of people you don't know, but there's no harm in forming some on line friendships prior to your move with people who may relate to your situation.
5. Find out if anybody you know will be living in your new city
Facebook will be your best source of information for finding out whether anybody you know lives in the city you're about to move to. There's no harm in doing a little cheeky online stalking to check if anybody in your wider social circle happens to live in the same place as you'll be going. It's a good idea to have a few people you can reach out to, especially in the first few weeks and months after your move, when you're still getting used to living in a new place.6. Join some clubs
While you're on Facebook, use this platform to research if there are any local clubs or groups that you can join online before you move cities. If you're into boxing and cross-fit for example, try and find some localised Facebook fitness groups, and join them so that you start receiving news and notifications. This is a good way to generate some social connections before you make the move, and it will give you something to look forward to.7. Change of personal details
This is such an easy one to overlook. Even after moving to a new house, a lot of people forget to update their personal details with their bank, doctor, gym membership, and insurance for example. A good idea is to write a list of all your current healthcare alliances, financial affiliations and other memberships, and alert each one of the date that you'll be moving and your new address. There's nothing worse than getting to a new city and none of your mail gets redirected to you.8. Make a list
This may seem like an obvious one, but to-do lists need to be managed productively. They can often be left until the last minute when there's a million and one things to do, and this is when they seem totally overwhelming. If you start creating lists as soon as you can, you will watch the to-dos grow smaller and smaller as your moving date grows closer. The earlier the better – prioritise the most important stuff, tick each item off as you complete it, and you'll feel totally in control of your pre-move tasks.9. Be positive, but realistic
Your state of mind and emotions surrounding your move might feel very up and down – this is normal. When the initial excitement wears off, you may find yourself feeling anxious, worried, stressed, nervous, overwhelmed – or a delightful combination of the lot. Moving states is no walk in the park – there will be a lot running through your mind from woe to go, and each day leading up to the move may have its own challenges. Staying positive, but realistic is important to a successful and stress-free moving process. There's no point filling your mind with dread and negativity about everything that could go wrong, but remaining realistic and open-minded to potential challenges will allow for you to tackle them head-on.10. Choose an experienced Interstate Moving Company
This could be the make or break of your entire moving process – choosing the right Professional Moving Company is essential. Diamond Van Lines is Florida's most reliable and efficient interstate relocation service to assist you with your big move. Their services include free surveys and quotations, professional packing and crating, valet unpacking, house and carpet cleaning, insurance cover, and pet transport.They also offer an impressive range of transport options, such as jumbo furniture vans, high cube ISO containers and small packing vans. Diamond Van Lines are the experts in interstate removals, and dedicate their skills and services to ensuring that your moving experience is only a positive one.